HOME About
About Us
For more than 30 years, the mission of Advanced Air of West Palm Beach Inc. is to be a world class manufacturer of custom replacement bushings, sleeves, and out of scope nuts.  We are dedicated to the reduction of our customers turn times and the costs associated with oversized overhaul shops.  We uphold stringent quality standards in all facets of our business and offer unfaltering support to the landing gear overhaul industry.
AABushings invented the JIT landing gear overhaul bushing industry with our original innovative A through T technology, and early adoption of the best of information technology when other aerospace machine shops still worked with carbon paper and hand transcription of purchase orders.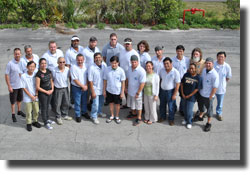 Our business philosophy is unique. We strive to run out of work everyday, and begin the next day fresh with the urgent demands of our clients.
We continue to maintain the most up-to-date technologies and manufacturing equipment to fulfill our promise to the customer. "You will not find a better supplier of landing gear overhaul bushings... period"
From 707 to the newest 787 Dreamliner, Advanced Air has provided the perfect blend of fast turnaround, accuracy, and superior manufacturing technique. We manufacture landing gear bushings for the full range of Boeing Aircraft,
In addition to our advanced digital ordering systems we still provide traditional ordering systems. BUT Advanced Air can help you make the transition to state-of-art online JIT ordering
Since its formal organization in 1970, Airbus has become a formidable competitor in the Passenger Aircraft industry. From its first A300 to today's A380s, we've been at the forefront of providing rapid turnaround bushings for Airbus aircraft.
We've been providing on-line ordering since 1995. Advanced Air was the technological leader then and remains the standard by which any other provider must be measured..
An introduction to AAWPB. Who we are, what we do, and how to contact us.
The leading manufacturer of Landing Gear overhaul parts, , bushings, sleeves, and out of scope nuts for the landing gear overhaul industry."
We are currently manufacturing custom replacement bushings for the Defense Logistic Agency (D.L.A.) and Hill Air Force base. We currently supply bushings for the following aircraft: F15, F16, A10, B52, C5, T38, and C141.
We offer a state of the art ordering system by virtue of a secured web site, designed specifically to your needs.
Search our site to find what you're looking for.
Specialized Manufacturing Facilities with State-of-Art CNC Milling
With the world's most advanced CNC equipment, we can fulfill your needs for accurate, timely, and cost-efficient manufacture of specialized bushing for aircraft large and small. From large production run to one-of-a-kind parts that would simply scare our competition, Advanced Air is the supplier of choice for overhaul shops that can't afford anything less than the best.
Never a delay. We maintain the most complete materials inventory in the industry
When you switch to Advanced Air as the supplier of your bushing requirements, you can expect immediate improvements in ROI. You will experience:
advanced Testing Capabilities on Site
Advanced Air West Palm Beach manufactures custom Landing Gear Bushings for major aircraft types
It's been 26 years since we introduced the concept of JIT landing gear overhaul bushings to the aircraft maintenance world. Over that time, we've constantly honed and improved our methods to ensure that we provide the fastest turnaround in the industry. Others may talk the talk..., we walk the walk.
Security Cleared and Inspected for Military Parts and Gear
Our ordering systems are built to fit YOUR needs. From Fax to Online, we deliver the fastest possible turnaround on landing gear overhaul parts.
Competitive Edge for commercial landing gear overhaul shops.
Direct suppliers of custom or oversize to in house airline overhaul facilities
Here's how to contact us at Advanced Air of West Palm Beach: the leader in landing gear overhaul parts and kits
Advanced Air West Palm Beach Inc. provides exciting opportunities to motivated individuals. Our entire management staff consists of people like yourself who may have started at the lowest echelon of employee. Our firm has a strict No Drugs Policy.
Obsessive about customer service. Landing Gear overhaul is a high stress industry with no room for error. We SUPPORT our clients.
By using the Advanced Air West Palm Beach website, you agree to these terms and conditions.