Home Products Specialized Bushings
Special Bushings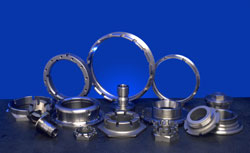 Advanced Air West Palm Beach currently manufactures landing gear overhaul bushings for a wide range of military and commercial aircraft ranging from the F-15 to the Boeing 747. Our experience in precision manufacturing of JIT landing gear bushings is unparalleled. We invented the concept of 24 hour turnaround for AOG situations.
Advanced AIr also specializes in the delivery of out-of-scope nuts, gland nuts, sleeves, strut components, and other aerospace quality machine components. Our experience is unsurpassed, and this results in lower costs to you. When we say we can make it, we're not planning on figuring it out on your project.
With the world's most advanced CNC equipment, we can fulfill your needs for accurate, timely, and cost-efficient manufacture of specialized bushing for aircraft large and small. From large production run to one-of-a-kind parts that would simply scare our competition, Advanced Air is the supplier of choice for overhaul shops that can't afford anything less than the best.